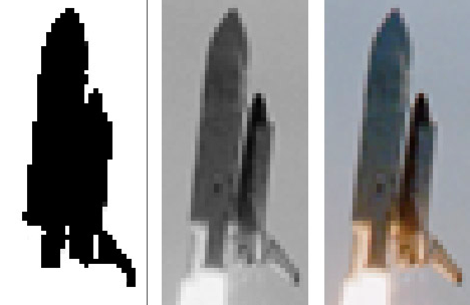 All three figures in this illustration have exactly the same number of pixels (about 2,000). From left to right, they're comprised of 1-bit monochrome, 8-bit monochrome, and 24-bit RGB pixels.
More than a little confusion exists about just what a pixel is. Pixels are so basic to digital imagery that it behooves us to understand them better.
A pixel (short for "picture element") is not a measure of image information. It's actually a dimensional measure: a pixel is the smallest-sized "tile" in a picture. All the pixels laid side by side, row by row, make up the two dimensional image we look at.
Why does this simple concept cause problems? Because photographs don't just have width and height; they have (bit) depth. The amount of information a pixel contains simply isn't part of the definition of a pixel. Pixels can be single-bit B&W (e.g., faxes). They can be grayscale, RGB, or CMYK, at standard sizes from 8 to 64 bytes. Less commonly, they can be hyper-spectral, where dozens of individual wavelengths are represented. In the most extreme case, a pixel can be full spectral, with a complete photon energy distributions recorded (mucho bits). But whether 1 or 100K bits deep, a pixel is still a pixel; that's inherent in the fundamental definition.
Instrumentality matters. It's correct for camera manufacturers to talk about the sensors in their cameras having X megapixels, even if each pixel only records one component of RGB. It's also correct for them to talk about synthesizing a full-color RGB image of X megapixels from that data. All the pixel count tells you is how many little tiles the image is subdivided into; it doesn't tell you anything about the content of those tiles.
Popular and reasonable practicalities also confuse. Thermal transfer printers produce real, discrete pixels—four-color (32 bit) ones. Inkjet printers don't. A computer display has discrete red, green, and blue pixels. The convention of giving the number of tri-color pixels is technically wrong, although it's useful. Unfortunately, camera manufacturers have chosen to use the technically correct nomenclature for their LCD displays and count each pixel individually. What a headache!
Sometimes confusion arises unreasonably. Foveon, for example, strongly implies they have three pixels for each real physical pixel, because their pixels capture multiple wavelengths. False! It's misusing the term, and it confuses people. It would be like claiming Hummers get better gas mileage than a VW, because they can carry more passengers. Yes, passenger-miles per gallon is an important measure of fuel efficiency...but that's not what MPG means and Hummer isn't foolish enough to claim otherwise.
Keep your terminology straight and you'll be less confused. Object when marketdroids play fast and loose with established vocabulary. They aren't doing it for your benefit.
_____________________
Ctein
Featured Comment by Jim Kofron: "A history of the 'pixel' ['Pixels and Me,' a talk by Richard Lyon of Foveon for the Computer History Museum]."
Mike replies: Dear lord, Jim, that's more than I needed to know about 'pixel' by a factorial, but it's fascinating, if you have an hour and 22 minutes to spare...(those without quite that much time should start at about 0:50:00; he talks about the Foveon pixel count at about 1:05:00).