By Ctein
Before I get started on this column, I have a request from a reader that I'm sure some folks here can help with. Please don't post responses here; e-mail them to me at ctein[at]pobox[dot]com. Thanks very much!
"I would like your advice on purchasing a slide & film scanner. I have thousands of both and value my time, so I'm willing to pay more for a faster and higher-quality one. I'd like to keep it under $2000, but will go higher ($3K) if there is a significant advantage. Any recommendations?"
___________________
Robert Roaldi raised some interesting issues in his comments about the Canon G9 Review. If digital cameras have reached 35mm standards, at what point can we say, "Enough is enough?"
Food for thought. Just what do 35mm standards imply? The picture above is the very first color print I ever made (probably; my record keeping was not impeccable in 1970. It might have been the second or third.) It's an 8x10" print from 35mm Ektacolor, cropped to fit the paper. Below is an enlarged section from that print.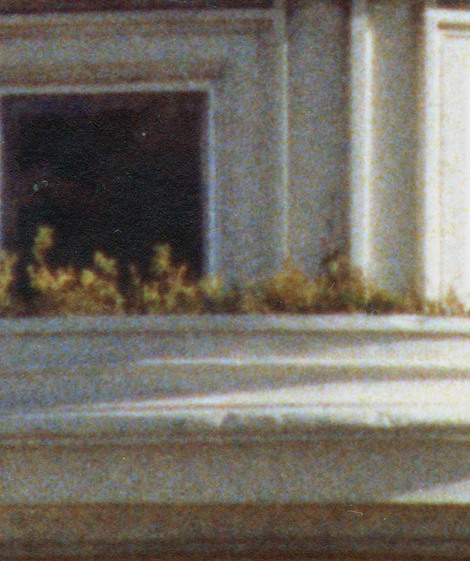 Within months, I pulled all my savings and bought my first Pentax 6x7. Why? Because I couldn't make a color print from 35mm that came close to my grain and sharpness standards. Keep in mind that my preferred B&W film was Panatomic X. The quality of color negative films of the time was more like Tri-X. If that was the very best I could do, I was not going to be a happy camper.
There was always Kodachrome II, but making really good prints from slides required very advanced printing techniques involving contrast control and color correction masking. In truth, that didn't change until digital printing came along. (With all due respect, anyone who thinks they make good prints from unmasked chromes on Cibachrome or Type-R materials is not using the same definition of "good" as I do).
But, by the late 1980s slow color negative film had surpassed Kodachrome 25 in both fine grain and resolution. By 2000, film of any speed that was only a sharp as Kodachrome 25 would be considered a low-resolution film. One could routinely make 35mm photographs that were as fine-grained and sharp as what I could do with medium format 30 years earlier.
This did not stop photographers from wanting further improvements in films. Medium format quality in 35mm is quite wonderful, but why not hope for large format quality? We're nowhere near the ultimate limits of photographic quality, where any further improvements would simply not be perceiveable. We have surpassed "good enough;" we're far from "can't get any better."
Digital, having reached an affordable parity with film, is taking up this challenge. Some low-priced digital cameras produce less grain (noise) at higher ISO's than the comparable 35mm films, although they may not be better than low-ISO 35 mm films. The midrange and expensive digital cameras better even those. But, medium format is more of a tossup, and we haven't reached an economical large format quality level yet.
What is remarkable and noteworthy is that there's nothing fundamental that prevents us from doing so.
___________________
Ctein
Featured Comment by Jean-Pierre Grüter: "As a professional photographer I compared the Phase One 39MP Back with 4x5 inch Film (Hasselblad Scanner) because I have to produce often huge prints like 1.1m x 1.5m. I did this test one year ago and ended up in buying a Hasselblad Scanner. If you scan at the highest optical resolution of the scanner you get a file with 80MP. I found that I got more information in those scans than in the Phase One files. The huge prints are sharper and hold much better together; it feels more realistic. The digital files when highly enlarged look like watercolor paintings but they keep more details in the shadows and in the highlights. If you shoot with 4x5 inch Provia 100 film you have less dynamic range but more resolution and very crispy images. As I do a lot of architecture photography I need wide angles. Here I was very disappointed about the possibilities of the Phase One Back and the available lenses."