By Ctein
So, a couple of weeks back readers started talking about "that vision thing" in photography. Here's a slightly left-field take on my "vision thing."
I've got a photographer inside my head. That "me" isn't the same "me" who is writing this column. It's a mental faculty I can turn on and off at will, quite literally as easily as flipping a mental switch. I flip it on and I'm in "photography mode." It's like there's a viewfinder frame imposed on my mental vision and everywhere I look I see photographic compositions. The world doesn't perceptually flatten out into two dimensions, but it's like the three-dimensional world gets overlaid with a different level of perception. A little like (but only a little) one of those TV commercials where pieces of the scene on the screen get isolated and turn into picture postcards. I just naturally see photographs wherever I look when I'm in this mode.
Put a physical camera loaded with film in my hands, and the photographs I see are appropriate to that camera. I tend to be a full-frame photographer; it's not an aesthetic-ideological point of view, I just end up using the whole frame for composition. Put a 35 mm camera in my hands and I'll go around seeing 3:2 aspect-ratio photographs. Make it a Hasselblad and I'll see square photographs for the making. Put a panoramic camera in my hand and that's what I see.
It gets even more specific. When I'm using my Pentax 67, the majority of my compositions are horizontals. When I pick up the Fujica GA645, it's verticals (when you hold the GA645 "horizontally" the orientation of the frame is a vertical).
Furthermore, it works equally well with all films. Hand me a camera with B&W film and I'll see B&W compositions to photograph. Make it one with color film and that's what my eye finds. I can and will pick them up alternately and make good photographs with them. Back in the 1980s I traveled with two Pentax 67 bodies loaded with B&W and color negative film, and a 35mm body loaded with Kodachrome 25. I swapped between them, sometimes from frame to frame. This doesn't seem to mess with my "vision thing"; that seems to become an extension of whatever camera's in my hands.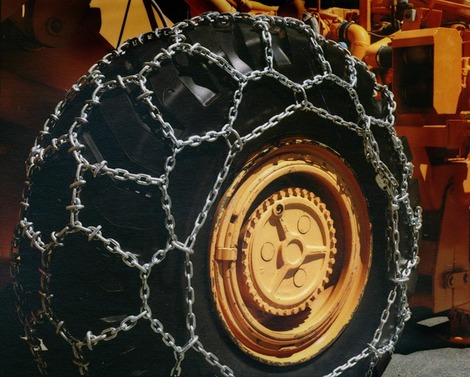 I made these two photographs on a trip up to the Pacific Northwest back in the 1980s when I was in the habit of carrying several cameras with different films in them. They were made just a couple of minutes apart. I've always found it easy to switch between B&W and color.
Still, I do seem to have artistic inclinations and preferences. I hardly ever photograph color slide or B&W negative any more. I don't know why; when I go to the freezer to grab film before taking off on a trip I just naturally gravitate to color negative 99.9% of the time. That's what my muse wants to do, I guess. Who's gonna argue with a muse!? But force a B&W camera into my hands, and I'm still happy as a grayscale pig in monochrome mud. The muse may want to do color; the photographer doesn't seem to care. It's all good.
_____________________
Ctein