By Ctein
S'truth! My habits and practices came from cutting my photographic teeth on Polaroid film. For the first several years of my "serious" photographic life, Polaroid was all I used (save for a few rolls of 35mm film developed in a summer photography class). I even used it for the first two years I was a photographer on my college newspaper.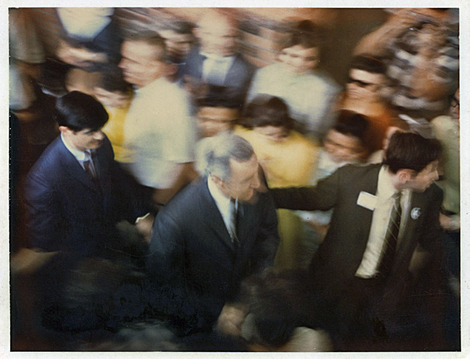 Eugene McCarthy running (almost literally!) for the Democratic nomination for president in 1968.
There's a good chance, in fact, that I wouldn't even be a photographer today were it not for Polaroid. Until I got a Polaroid camera, my photographs were extremely ordinary. I've gone back and checked. I was usually the one wielding the family camera, but any other family member could have done exactly as good (namely, bad) a job as I. That all changed early in my teens. My grandpa gave me his Polaroid Highlander 80A rollfilm camera, with Wink-light flash and a modest number of filters.
Having the instant feedback made all the difference in the world (that's why I've always been enthusiastic about digital cameras for beginners). I could immediately see what was wrong with a photo I'd made. Being of an inquisitive and scientific mind I promptly started experimenting. The second illustration here shows a very early photo I made while experimenting with filters to improve skies.
A very early experiment with my new Highlander. Penciled notes on the back say "3000/orange filter/EV 15." Polaroid experimentation not only made me a good photographer, it made me a good record keeper.
In a few years I acquired a full-size Polaroid Model 150 rollfilm camera. Not only did I want those luxuriously large (3 in. by 4 in.) photographs, but Polaroid made a wondrous assortment of films that were not available in Highlander size. I started photographing color, which was now technically as easy as B&W. ASA 3000 B&W film became my mainstay for low light fun and home photomicrography. The 10,000 speed oscilloscope film let me experiment with night and high-contrast photography. Polaroid's infrared film was great.
I'm not sure how I got the money to buy that camera. Polaroid was expensive, and I could only afford to make a handful of photographs each week, even devoting most of my allowance to buying film. I learned how not to waste photographs. I got really good at that, to the point where I expected every photograph to be a keeper. I learned how to take a pass on lesser compositions, to make the one photograph I really wanted to make and walk away. I learned how to meter well with an averaging meter. Polaroid film was no more forgiving than slide film, and your exposures had to be pretty much on the mark. I became skilled at looking at a scene and instantly intuiting how much it deviated from the 12% effective reflectance that the meter expected to see. For my high school graduation, I got a Polaroid Colorpack 250 with all the accessories. Until just a few years ago when I got access to a digital camera, I still used that for some of the product shots for reviews in Photo Techniques magazine. I bought a first-model SX-70 camera and made many, many hundreds of photographs with it into the early 1980s, when the poor stability of the prints soured me on it.
That's what Polaroid did for me. It taught me to develop my eye and discrimination and never make a photograph unless I knew it was the right photograph to make. It taught me to meter accurately; today I still use an averaging meter for all my film work. And it let me start developing my interest in color four or five years earlier than I would have otherwise, without being hampered by inconvenient and lengthy processes.
I'm not going to mourn the loss of Polaroid film; it's no longer important to me in any way. But I do owe it considerable gratitude.
____________________
Ctein

Featured Comment by David: "I'm mourning the Pola loss. It sucks that so many photographers can carry that 'let's move on' attitude so easily for the film processes that proved the medium. To each his own.
"Type 55 is a special thing, nothing like it. I use the medium format stuff to proof lighting. There really is, for me, no better way to do it.
"...Maybe I'll start using digital to check my lights...nowhere near as cool because then I'll have nothing to drop into my box of old Polaroids. That box is like a treasure...I go in there looking for ideas and reminders of ideas all the time. Like Ctein...notes all over those things, lighting diagrams, schemes and ratios. Nice to not have to sit at a computer to do this...stare at a screen for yet another series of tasks.
"I can't think of another invention (computer) that has been so liberating and so insulating/alienating at the same time. Biggest paradox ever."