Photoshop Bicubic vs. Genuine Fractals vs. BlowUp
By Ctein
Now that I have a giant printer (Epson 9800) I've been getting interested in what it takes to get really good, really large prints. Obviously huge scans (or original camera files) are best, but sometimes one has to upsize an existing file.
For years I'd been hearing about how superior Genuine Fractals was. When Alien Skin came out with BlowUp, my curiosity got piqued. Two competing and expensive (over $200) plug-ins? I was sure they would blow Photoshop Bicubic interpolation away. But which one was the truly superior program? The fine folks at Alien Skin and OnOne Software provided me with evaluation copies to satisfy my itch.
Well, I got surprised. Nothing is all-around superior. Bicubic, BlowUp, and Genuine Fractals produce very different looking results, but each produced superior enlargements in different cases. If I were keeping score, I would say BlowUp was the best more often and Genuine Fractals best less often that either BlowUp or Bicubic. It depended upon the particular file I was upsizing and how much I was upsizing it.
(Click on images for larger size)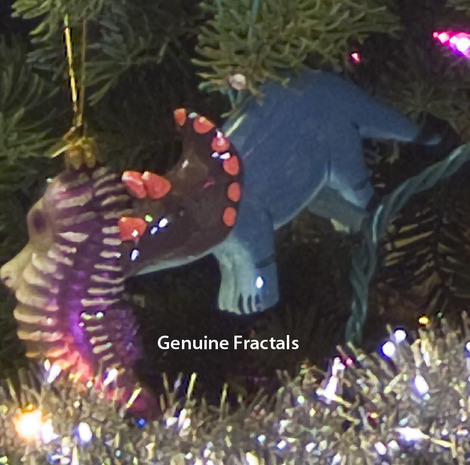 This was hardly what I expected, and it killed my notion that this would be a quick report. Many hours, 20+ gigabytes of images, and a hundred square feet of prints later, I'm writing this as a three-parter for Mike. Normally my columns are spaced 10 days apart, but we're running these on three-four day intervals so you'll have the whole story in one week instead of three.
I upsized an assortment of different files by 1.67X, 4X, and 10X. I did find one consistent difference between the three approaches. Bicubic is by far the fastest and least memory-intensive choice. It ran 5–10 times faster than BlowUp. Genuine Fractals was by far the slowest. It ran 2–12 times slower than BlowUp and 20–60 times slower than Bicubic. It also consumed prodigious amounts of memory. It's a good thing my Macbook Pro has 4 GB of RAM!
But that's an incidental. What really counts is quality. I tried to be fair in how I looked at the results. All files were printed at 300 ppi on my Epson 9800 on glossy paper. I didn't pixel-peep (well, not too much), but I did scrutinize the prints fairly carefully. While larger prints are often viewed from some distance, if your prints aren't being given a critical examination there's really no need to consider either of these pricey plug-ins. Stick with fast and free Bicubic.
I began with a fairly low-noise test photograph made with my Fuji Finepix S6000fd, and upsized it 10X. The illustrations in this column show a very, very small section of that enlargement at 25% scale. Subjectively, this proves a pretty good match for what you would see looking at the prints. Still, I must remind readers that the point of illustrations is to illustrate my points, not to prove them. If you don't agree with my description, based on what you're seeing on-screen, trust the description.
The two plug-ins did a great job on the strong continuous edges of the ornaments and the pine needles. But they lost subtle fine detail, like that in the textured golden bands and cap of the seahorse ornament. The result looked plastic, like a digital photo that has had too much noise reduction applied: edges are hard but texture's missing.
I should mention that both plug-ins have controls for fine-tuning their outputs. The changes weren't enough to alter my rankings, but I did adjust the settings to produce the most pleasing results each plug-in was capable of.
Genuine Fractals fared the worst, because it took the small bright highlights and turned them into distractingly hard-edged polygons. The golden string looked downright weird. Overall, the print looked sharper, but also looked just plain wrong. The image no longer looked like a photograph; it looked like it was created with a paintbrush.
While BlowUp produced less distracting artifacts, there was still no question in my mind—Bicubic was by far the best choice if I wanted a print that still looked like a photograph.
But you know that's not the whole story, or this would be a one-part review.
When I made 4X enlargements of the same file and compared prints, it wasn't so clear-cut. Genuine Fractals still produced an unpleasantly artificial rendering, so it stayed in third place. But now it was a tossup between BlowUp and Bicubic. The suppression of fine detail and the artifacts in the highlights were less bothersome, and edges were definitely clearer in BlowUp's version. I would pick BlowUp over Bicubic by a nose.
Down to 1.67X, and I got a new surprise. There were subtle but clearly-visible differences between the three renderings; equally clearly the superior one was Genuine Fractals', no question about it! The loss of fine detail and the highlight artifacts were invisible at this scale. The edges were uniformly cleaner and sharper, and the image was just a bit less noisy with smoother tonality. BlowUp came in second and Bicubic came in third.
Curiouser and curiouser. Would other test files produce the same rankings? Well, what do you think? Tune in next time for further adventures.
____________________
Ctein