Photoshop Bicubic vs. Genuine Fractals vs. BlowUp
By Ctein
My previous post made clear that none of these three upsampling methods is consistently superior to the others. Perhaps we can learn more of their behavior from other test cases.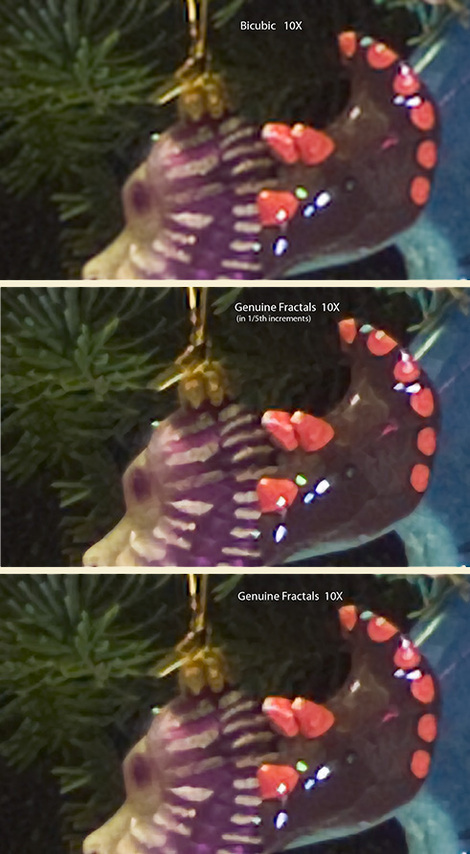 But first...Lubor asked if incremental upsizing with Genuine Fractals produced better results. The illustrations above shows what happens when I upsized to 10X in five steps instead of one. The result emphasized Genuine Fractals' flaws as well as its benefits. Edges were even cleaner and sharper with incremental upsizing, but fine detail and highlights became even more polygonal and less natural-looking.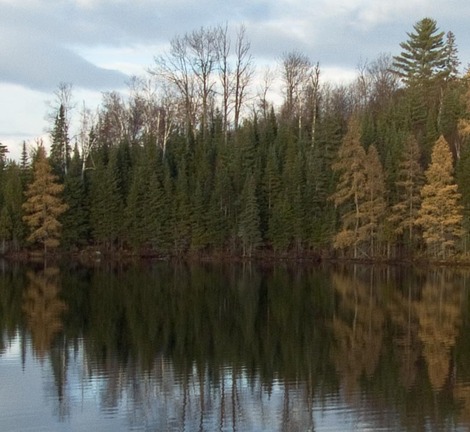 On to new cases. This detail shows a portion of another ISO 100, low-noise photograph from my Finepix S6000fd. It differs from the photo I tested last time in that it lacks the sudden and extreme contrast changes of that Christmas tree photograph. At both 1.67X and 4X, Genuine Fractals came in first, Bicubic Sharper came in second and BlowUp placed third. The differences, though were not profound. At 10X, Bicubic won out, not because of problems with artifacts from the two plug-ins, but because they both suppressed the fine detail in the stand for trees, mistaking it for noise. Their images were less sharp than Bicubic's.
Okay, let's take a closer look at this noise vs. detail business. Above is a full frame photograph from my camera. The lighting conditions were extremely poor, so I had to use ISO 1600. Even in this reduced-size image you can see how noisy the original is. (By the way, most of the noise can be successfully suppressed with Neat Image, but that's not the point of this test).
The three 1.67X enlargements are nearly indistinguishable. Genuine Fractals looked marginally worse; it mistook some of the noise extremes for real detail and enhanced them, so its rendition has slightly worse grain than the other two.
At 4X there's nothing to distinguish the three versions. Edges are no sharper with the plug-ins; noise looks similar in all the enlargements. Take it up to 10X? Oh, the horror, the horror! As you can see in the closeups, the two plug-ins, having confused noise for image, have dutifully enhanced it in an entirely unattractive way.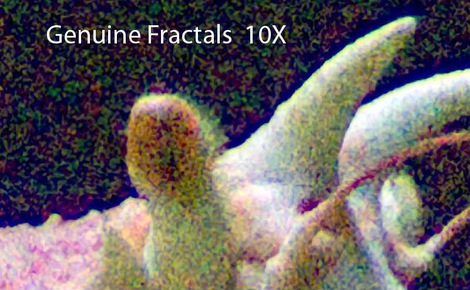 OK, there's a clear lesson here—if you're intentionally retaining noise for aesthetic reasons, don't trust your enlargements to "clever" algorithms. Stick with simple Bicubic. If you're not, be sure to do your noise reduction before enlarging.
Next time it'll be film scans and some synthetic test images that show some of the interesting peculiarities of all three approaches.
____________________
Ctein