Photoshop Bicubic vs. Genuine Fractals vs. BlowUp
By Ctein
On to film scans. They're a different kettle of fish from digital photos. It's not just that the image structure is very different. It's that you usually have access to many more pixels than your typical digital camera produces. Scanning at a higher resolution beats upsampling every time. But that's not always possible, and sometimes you'll hit the wall anyway, especially on a large print from a cropped frame.
I tested two scans: a low-resolution (1200 ppi) oil-immersion scan of a 6x7 format Provia 100 II slide (above) and a high-resolution (3200 ppi) oil-immersion scan of a 645 format Portra 400 negative (below).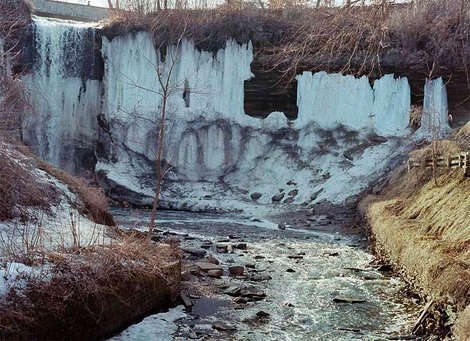 At 10X, even the low-resolution scan is going to result in a 7 by 9 foot print at 300 ppi, and you'd never need to print at 300 ppi for prints that big! Unless cropped severely, that's not the kind of photograph that anyone's going to be pixel-peeping at.
I taped comparison prints to a wall, stepped back 30 feet and started walking towards the pictures until I could see some difference between them. They looked identical at 15 ft. (and I have considerably better than average visual acuity). At 10 ft. the Genuine Fractals print definitely looked sharper. BlowUp beat out Bicubic, but just by a hair. The differences were not miraculous; it was just that Genuine Fractals was incrementally better. 6 ft. was about as close as I'd want to get to these extreme enlargements; closer, they all looked like varying degrees of mush.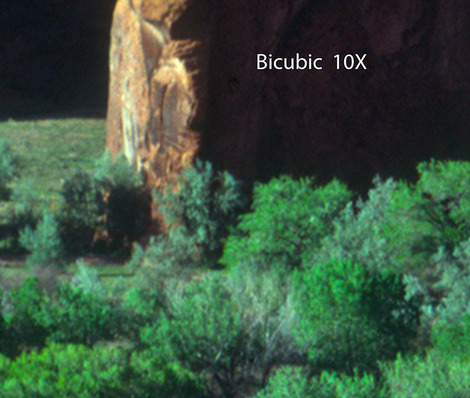 Genuine Fractals also looked best at 4X and 1.67X. At 1.67X, Bicubic Sharper looked better than BlowUp (and better than Bicubic). This is the only case I found where the flavor of Bicubic I used made a difference in the relative rankings.
The 3200 ppi scan would print out at almost 18 in. by 24 in. at 300 ppi. You'd never upsample a file like this by 10X unless you were doing wall-sized display images or there was really serious cropping going on. Still, for the sake of consistency in testing, I checked it out at the three usual enlargements.
At 10X, Genuine Fractals won again, and again the critical viewing distance was about 10 ft.. This is obviously more a function of the printed pixel size than the original scan pixels. Printed out at a more plausible 100–200 ppi (for large display-sized prints), I'd expect the critical distance to move back to 15–30 ft. This time BlowUp came in a clear second, not too far behind Genuine Fractals. Bicubic was definitely in third place.
That ranking carried through for 4X, but BlowUp got relatively better-looking. At 1.67X, it was a real tossup between Genuine Fractals and BlowUp; the former was a bit crisper but the latter had slightly better tonality and less grain. Both of them beat out Bicubic.
And the winner is...
My conclusions from all the tests? Genuine Fractals is aggressive about finding and sharpening edges, but like a freight train rolling just a little too fast it's likely to jump the tracks in spectacular and catastrophic fashion. It was a consistent winner at 1.67X, reliable enough that I'd trust it to do the best job. For bigger enlargements, no way. In my judgment it's more often wrong than it's right. BlowUp produces a much more "photographic" look; while it doesn't sharpen as well as Genuine Fractals, it was a lot less likely to 'uglify' the photograph. Based on a very limited test sample, it seems like Genuine Fractals is more comfortable dealing with film images and a lot less so handling the artifacts that come with digital photographs. Alien Skin BlowUp is more egalitarian.
But, don't write off Bicubic! A lot of the time it produced the best results of all, most especially when the photographs contained fine and subtle texture and detail.
This leaves open the matter of alternate approaches. Qimage? Incremental upsampling? Split upsampling à la Martin's suggestion? All good questions. If there's a Part IV, I'll look at these matters, but I make no promises. I've got two weeks to make up my mind, and, please, no begging. I know you readers would like me to do it, but this testing is time-consuming so only one vote counts here—mine.
If not that, my next post will start a series of articles on a much more somber subject—sorting and cataloging a dead artist's work.
____________________
Ctein