By Ctein
It's spring, and this man's fancy turns to…mortality.
My very first column for The Online Photographer was about the death of Tee Corinne. Tee's estate commissioned me to organize her computer files. My task was to eliminate the chaos and duplication and make it accessible to future scholars at the University of Oregon. I had Tee's external hard drive, floppies, Zip disks, CDs, and DVDs. All told, there were about 70 GB of data in about 75,000 files: Tee's writings, correspondence and photographs.
Tee had used a variety of word processing programs, some quite ancient. Early stuff was named in the traditional "8.3" DOS fashion we had to work with in those dim, dark days. For example, a file might be named "INVISIBL.LNS," shorthand for " Invisible Lines." As you might expect, modern operating systems get flummoxed by this.
I reconfigured all the names and appended the file creation dates. MacLink Plus converted them en-masse from their original formats into DOC files, a format so widely used I can be sure programs capable of reading it will be available into the indefinite future. INVISIBL.LNS became INVISIBL_LNS_05161994.DOC. Done!
The photos took 95% of the work. First I had to get all the files into my computer. CD and DVD reading and writing isn't foolproof. A single read of Tee's original disks didn't copy all the photos successfully. Adobe Bridge usually signaled when a photo was broken by either refusing to display a thumbnail or displaying a low-quality thumbnail with a black border. Sadly, it wasn't foolproof.
To get 100% reliable results, I pointed Photoshop's Contact Sheet II function at the hard drive and told it, "Make me contact sheets of everything!" Every time it encountered a file that wasn't 100% kosher, it halted and let me know. Then I'd go back to Tee's original disks. In all but two cases (out of over 15,000 unique photographs), I could come up with a good version of the file. It took a long time for the system to crunch that many photos, but it didn't require constant attention.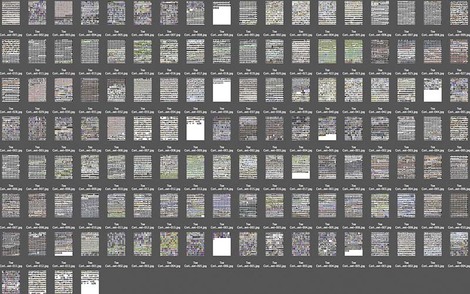 What does it take to sum up an artist's life? More than one screen shot, for sure, but this is a record of the last half-decade of Tee's life. Each barely-visible dot, 144 to a sheet, is a unique photograph.
The contents of Tee's disks and hard drive overlapped but weren't identical. In addition, there were numerous duplicates where Tee copied a photograph to a particular project folder to work on. Finished work was sometimes duplicated in several places for different projects. Sometimes the file names were kept the same, sometimes not. In at least two cases, there were files that had identical names and identical file lengths in different folders that were entirely different photographs.
My only option was to look each and every photo...several times. Multiply that by around 25,000.

One single contact sheet from the 130 pictured above.
The first step I took was to identify the unique contents of the hard drive and the disks and merge them into new folder. I opened up two full-screen light table windows in Adobe Bridge, showing corresponding folders from the hard drive and the disks, and started comparing the thumbnails. Boy, I have never been so happy to have dual monitors with lotsa pixels!
It went faster than you might think. The contents of the two data sets were similar, and I could scan a whole screen quite quickly. Anything that was a dupe (same look, same name, same file size) got deleted from the disk folder. Once I'd finished purging the folder I copied the remaining disk files over to the corresponding folder for the hard drive. I preserved the unique disk contents as well, so future scholars could see which photos Tee had offloaded from her hard drive. Who knows; it might be of interest?
Now I was down to a mere 45 GB of data! It was time to weed out the superfluous, as I'll talk about next time.
____________________
Ctein