By Ctein
You're about to read a follow-up to an article that's yet to be published. I'll have an article in the July/August PHOTO Techniques magazine on how to extract the maximum performance from Photoshop. Post-deadline, Other World Computing loaned me a couple of high-performance external drives to test as Photoshop scratch drives. I report on them here. Isn't time-twisting fun?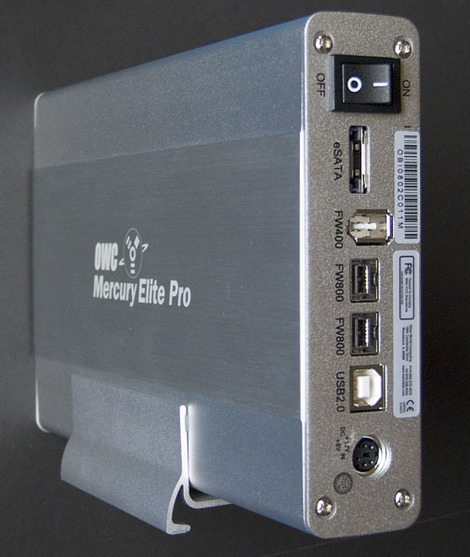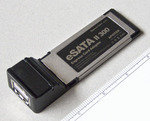 The OWC Mercury Elite-AL Pro 'Quad Interface' drive (above) contains a 750 GB, 7200 RPM, 32 MB cache drive and has eSATA, FireWire 800 and 400, and USB2 ports. It lists for $230. I connected that drive to my MacBook Pro with the $39 APIOTEK EXTREME Dual eSATAII Express Card 34 Adapter (right).
The OWC Mercury On-The-Go FireWire 800/400 + USB case with a Hitachi 200 GB, 7200 RPM, 16 MB cache drive runs $190 after rebate. That's not the biggest but it is the fastest laptop drive out there. I installed one in my MacBook Pro and it has a sustained throughput around 60 MB per second, says Lloyd Chambers' DiskTester. That's twice as fast as many laptop drives.
My test was a merge of twenty 35 MB images into a single panorama, which you can kinda see above; the original is almost 60 times bigger! You can view a small section at 100% scale below. Photoshop reserved 26 GB of scratch space to render the assemblage. Using my laptop's internal drive as the scratch drive, Photoshop took around 10 minutes to assemble the panorama.
Next I tested the On-The-Go drive. Connected as a FireWire 800 device, DiskTester reports it's as fast as my internal drive; connected via FireWire 400, performance dropped by over 40%. How did this translate into Photoshop scratch performance? Via FireWire 400, rendering time was identical to the internal drive, while FireWire 800 trimmed a full minute off of the render time. The results would more dramatically favor the On-The-Go drive if I were running a "stock" internal drive or a normal assortment of foreground and background tasks (I can't test that because it's just about impossible to get reproducible results).
Just for a joke, I tried USB2, which slowed the drive by a factor of 3–4! Maybe with the right drive and the right glue circuitry USB2 lives up to its specs, but it never has on any hardware I've used. Worse, Photoshop doesn't play at all well with USB2; it still hadn't finished rendering the file after over 2 hours! You want good scratch drive performance? Stick with FireWire or eSATA.
The OWC Mercury Elite-AL Pro sustained eSATA read speeds approaching 95 MB/s. Write speeds averaged 80 MB/s, but there was a great deal of variation in write speeds that I could not pin down; sometimes it was low as 70 MB/s, other times it matched the read speeds. No question it's fast; I'm just not sure exactly how fast.
Under FireWire 800 performance dropped by a modest 15%. FireWire 400 racked up 38–40 MB/s, close to the theoretical limits. A drive this good needs FireWire 800 or eSATA. Still, even FireWire 400 scratch performance was respectable, trimming almost a minute off the rendering time. FireWire 800 clipped almost 2 minutes and eSATA saved almost 3. That's really impressive.
Both drives are good ways to goose up Photoshop. If you are a traveling photographer, the On-The-Go drive will perform at least as well as your internal drive and probably substantially better. If you're working from a desk, the Mercury Elite drive will give Photoshop a real kick in the pants.
Two tips—first, don't make the mistake of filling these drives up with other files if you want to use them for scratch. Typically there's a factor of two performance difference between the front and back ends of a drive. You want that fast front space for Photoshop scratch files. Reformat the drive as two partitions, reserving the "front" end of the drive for a dedicated scratch partition.
Second, if you really want maximum performance, set up a RAID 0 SATA array, like Lloyd recommends on his website. I expect that doing that would cut my photomerge rendering times by a full factor of two over the internal drive. For a several hundred dollar investment, that's a pretty good performance return.
_____________________