By Ctein
I have never understood what this "lazy photographer" thing is all about. When I was young and too tech-obsessed, Bob Nadler stated it to me very well: "No one cares how hard you worked."
He was absolutely right. If someone doesn't like your photograph, they're not going to like it after they find out how hard you worked to make it. If they already like it, they're not going to like it better hearing of your pain.
The point of photography is making photographs. If you're making photographs that you think are good (or simply cool) you are succeeding. Finding a harder way to do it does not make it better. That's about macho prowess and chest thumping, not about photography.
Some folks suggest that it's really about mastering "basic" photographic technique. The only purpose basic technique serves is to let you make the photographs you want to make. (Well, that's an exaggeration; it also serves to help you pass tests or to get scouting merit badges.) If you are making those photographs, you have sufficient technique. Conversely, if someone is making photographs they are entirely happy with and they don't use some particular technique you consider "basic" well then maybe, just maybe it isn't really basic, merely useful on occasion?
Lots of photographic techniques that were once considered basic have become obsolete. Coating one's own emulsions, for example. There are still people who do it, but does anyone out there think a photographer is "lazy" if they don't? How about evaluating light levels and exposure without a light meter (let alone auto-exposure). Again, that used to be a basic skill. Many of us old-time photojournalists mastered it because in the bad old days, pre-autoexpsoure, you didn't have the leisure of making light readings. I could not have made my Apollo 17 launch photographs without that skill, and lacking that skill is why most folks' photographs of that launch were crap. So, are you lazy if you don't know how to do that? Maybe you were then, but not now.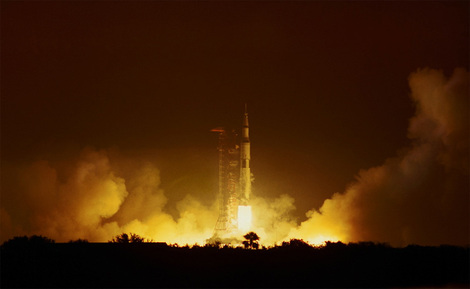 This was the first night launch of the Saturn V, and the brightness of the scene changed very rapidly when the engines ignited and as the rocket lifted off the pad. There weren't any sophisticated professional auto-exposure cameras and there was no time to take meter readings and dial them in. NASA's guess as to what the exposure should be was off by several stops. If you couldn't gauge exposure by eye (or have a bank of cameras running different exposures) you were in trouble.
I make dye transfer prints which are, beyond argument, better looking than any chromogenic print ever made and 100 times more work. All those photographers out there who never bothered to learn dye transfer printing (which would have surely improved their prints)—that made them lazy?
For that matter, what about all those folks who use slide film? They don't have to master precision printing or how to instruct other people to do precision printing for them, in itself a substantial skill set. All they have to do is get an exposure right. Big deal. That sounds pretty lazy to me; they learn one trick and then eliminate 80% of the craft and let the chemistry do all the heavy lifting. Tisk tisk—clearly these are inferior photographers producing inferior work. So they know how to use a light meter (crutch!); they aren't having to do any of the really hard stuff like I am, the lazy sods!
Pretty silly, eh?
________________________