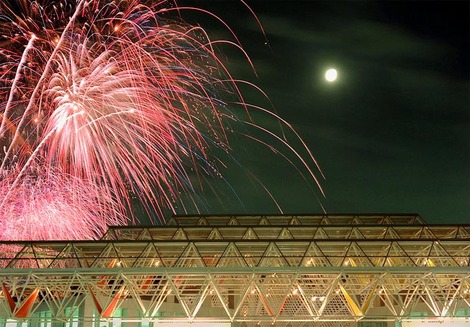 Ctein, Moon and Fireworks, Vancouver EXPO, 1986
By Ctein
The Fourth's a-coming. Surfing the cyberwaves I came across some interesting and entertaining material on photographers' rights. I provide links below along with some excerpts of the content that I hope will entice you to read the entire articles. This is stuff all photographers should know.
Now, keep in mind that legal rights are not the same as authority or instrumentality. You may have the legal right to do something but that doesn't mean someone else lacks the capability of bully, coercing or threatening you into stopping. The 98 lb. weaklings might have the law on their side, but that won't stop the 200 lb. thugs from smacking the crap out of them.
I applaud anyone who wants to stand up to the bullies, but I don't disparage those who are disinclined to do so. You want to volunteer to take a bullet for the cause? Yer aces in my book. But, I'm morally opposed to conscription.
http://www.salon.com/tech/col/smith/2006/02/10/askthepilot173/index.html
Click the "enter salon" button in the upper right corner to get past the ad to the article

The million-dollar questions are: Is it a violation of law to take photographs at airports? And under whose jurisdiction does the matter fall?

"No, it's not against the law," says Anne Davis, a Transportation Security Administration (TSA) spokeswoman. When asked about jurisdiction, Davis describes TSA as the overseer of all airport security matters, including the supervision of local law enforcement. "The buck stops with us," she says, adding that the agency has no specific policy with regard to picture taking, other than asking people not to tape or photograph screening apparatus.

Phil Orlandella, the media relations director[:] "Who controls security, TSA or the local police?" he says. "They both do, it's that simple. And no, it's not against any rules to take pictures, inside or outside, period. If anyone tells you otherwise, that's a bunch of baloney."

He warns that yes, individuals snooping around with cameras might be approached and questioned, but photography itself is fully within a visitor's rights. "A passenger is free to take any picture he or she wants," he says, "in any public area of the airport, end of story. If you're not deemed a threat, you're free to click away."

http://www.usatoday.com/tech/columnist/andrewkantor/2005-12-29-camera-laws_x.htm
http://www.usatoday.com/tech/columnist/andrewkantor/2006-08-11-photography-rights_x.htm
And yes, you can shoot on private property if it's open to the public. That includes malls, retails stores, Starbucks, banks, and office-building lobbies. If you're asked to stop and refuse, you run the risk of being charged with trespassing, but your pictures are yours. No one can legally take your camera or your memory card without a court order.

You can also shoot in subways and at airports. Check your local laws about the subway, but in New York, Washington, and San Francisco it's perfectly legal. Airport security is regulated by the Transportation Security Administration, and it's quite clear: Photography is A-OK at any commercial airport in the U.S. as long as you're in an area open to the public.

http://www.answerbag.com/q_view/395284
Is it legal to take photos? A set of Q's, A's, and useful links.

http://www.rcfp.org/photoguide/
What every cameraman, photographer and videographer should know about invasion of privacy standards in the 50 states and D.C.
Have fun, play safe, make trouble, don't blow up anything I wouldn't blow up.
________________________
pax / Ctein