By Ctein
The Bad
Finally comes the bad news about the Fujifilm Finepix S100FS, a mix of major and minor complaints. You decide what matters to you:
Size: My normal carry-around film camera is medium format, so I can accept this behemoth. Still, I sure wouldn't have minded if the S100FS were more petite. Folks who are used to compact and lightweight cameras may find this one too burdensome to carry around casually.
Fuji FinePix Studio: The bundled RAW conversion software is an embarrassment to Fuji. It's painfully sluggish, running 10 times slower than ACR, including the screen updates when you adjust settings. It clips substantial amounts of highlight detail that ACR retains. It lacks most of the adjustments that ACR has, including some that are critical to getting really good image quality out of this camera (see "The Ugly" section). It only offers sRGB color space, not Adobe RGB with its greater color gamut.
The only thing it is good for is importing photos directly from your camera to your computer.
RAW/JPEG swap: Switching between RAW and JPEG mode involves running through a couple of layers of menu and 15 button clicks. Given that this camera presents some good reasons for using JPEG, even for a committed RAW photographer like me, this is annoying. Mode switching needs to be easier.
No cable release socket: The camera has Bulb setting, but to take advantage of it requires a special RR-80 Remote Release for an additional $40.
The Battery: The S100FS uses a proprietary lithium battery, with an anemic 7.2V, 1150 mAh capacity. Three to four hours of serious photography depletes it, regardless of the number of photographs made. In one such session I was doing a lot of chimping and reviewing the results on the LCD screen and I barely made 45 exposures before the battery died. Just making photos, no chimping or in-camera deletions, I could eke out 135–160 photographs in the same 3–4 hours and then the battery was dead.
The Fuji battery isn't much smaller than three high-capacity rechargeable AAs, yet it stores less energy. It takes a sluggish two hours to recharge; I can recharge AAs in 30 minutes. In a pinch I can get AAs anywhere if AA rechargeables are drained. If you plan to use this camera for all-day outings, better own two spare batteries!
The Ugly
Now we come to the really big problem. The good news about an all-in-one camera is that you never have to buy another lens for it. The bad news is that you can't. The S100's lens is simply not up to the quality of the rest of the camera.
Others have incorrectly reported that the lens has serious lateral chromatic aberration. In fact, the problem is badly undercorrected coma in the blue (illustration 3). That produces color fringing that looks like LCA, but it's much more difficult to correct in postprocessing. It cannot be fully compensated for, only ameliorated. Along with fringing, coma's severe smearing wipes out fine detail entirely. High-contrast fine detail goes yellow in the highlights and blue in the shadows. This is unfixable.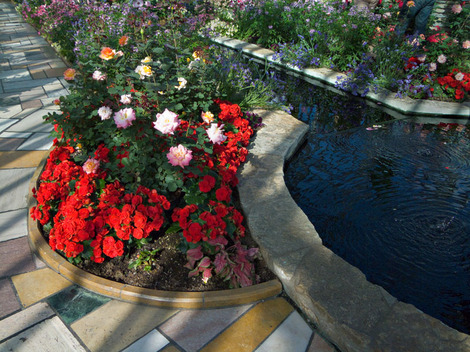 1. Great color typifies RAW photos from the Finepix S100FS...
2. ...As does an exceptional luminance capture range and fine tonality. But...
3. ...The camera lens creates some serious (partly-correctable) problems. Upper left shows the problem, with the lower B&W illustrations showing the corresponding red, green, and blue channels. There's almost no LCA, but the blue channel has terrible coma. Upper right is after ACR corrections, which can almost eliminate the fringing but can't restore the yellow-blue balance to the small sand grains. (This is a 160% enlargement from illustration #4.)
4. After correction in ACR, this image looks fringe-free even in a 14x20" print.
For the first several weeks of my review period, I waffled between giving this camera a "do not buy" recommendation and "buy but only with the most severe reservations." The image quality was simply fabulous...except for the ways it was completely unacceptable. Finally, after considerable experimentation, I figured out how to use Adobe Camera Raw to correct the problem to a sufficient degree, most of the time:
Turn down sharpening, which exacerbates artifacts and really isn't necessary at this stage. In the lens corrections panel adjust the red-cyan slider until red/cyan fringing is gone. Then adjust the yellow-blue slider to minimize yellow/blue fringing. Turn on highlight defringing.
Usually this produces a photograph that will even stand up to pixel-peeping, with excellent fine detail over the entire field (Illustrations 3, upper right, and 4). In certain cases it will not (illustration 5). It will also do nothing to restore fine detail that is suffering from yellow-blue color crossover. But the proof is in the printing, and 98% of the time the results are satisfactory even by my demanding standards.
5. Sometimes, even ACR can't counter the blue coma problem. This photograph looks okay as a 7x10" print, but the residual blue fringes are evident in larger prints. Lower left shows the butterfly's leg before my ACR correction method at 100% scale; lower right is after correction. It's better, but it's not good.
Believe me, I do understand what it takes to bring in a camera and lens with these features at this price point. But it's a mistake to try to do too much on a limited budget. The Fuji optical engineers made a poor compromise, degrading the S100's superb inherent image quality with this lens. I (and I think most buyers) would have been entirely happy with a lens that went out to "merely" 300mm equivalent and was much better corrected.
By the way, the lens has a most peculiar boke, which John Kennerdell has dubbed janome boke—literally "snake-eyed" but really the exact equivalent of bull's-eye (illustration 6). Compared to the coma problem this seems almost trivial, but even a boke-blind bloke like me noticed it.
6. An odd boke, named janome by John Kennerdell, is exhibited by the S100FS's lens in this 50% scale illustration.
Conclusion
My recommendation is "buy, with some reservations." Not if you want a casual camera that will produce top image quality with no unusual effort on your part. I'm willing to go to the extra effort and then the results are impressive. So I finally decided I could embrace this camera, warts and all. In fact, I bought the review unit from Fuji and sold my S6000fd.
It's a shame the ways in which this isn't a great camera came from poor design choices rather than being unavoidable at the price point. Still, the photographs I'm making with it are giving me the kind of joy that I need from an all-in-one camera. Even if it makes me work a bit for that.
_______________________