By Ctein
I would like to make a suggestion, with all appropriate modesty, that would alleviate a considerable amount of current financial woe. First, some background.
Most stuff isn't really worth anything! Beyond the basics of food, clothing, and shelter that one needs to survive, the rest is pretty much discretionary. It's all about how badly you want it. Soft currency, hard currency, promissory notes—none of it has much intrinsic value. Gold bugs treasure their hoards, but gold's nutritional value is insignificant, it makes very uncomfortable clothing, and it's not a good structural material. A bar of gold bullion is attractive, true, but 12 bars are not 12 times as attractive.
Gold is worth something because a large number of people have decided that they will give you stuff you want in exchange for gold. But it's not like one ounce of gold gets you one loaf of bread, now and forever. (Yes, it's really good bread!) It's whatever people decide it's worth today. Ditto, oil wells. Even real estate. That was a "hard" investment. I mean, everyone needs land and there's only so much of it, right? You can't go wrong with real property.
And I have this lovely bridge to sell you...
So, gold bugs have been routinely disappointed, the dot-com became the dot-bomb,the real estate boom burped.
It has to be this way! If one ounce of gold really was worth one loaf of bread now and forever, it might be worth hoarding because it wouldn't go moldy on you, but that would be it. The value has to change relative to what you really want or else there'd be no way to profit. The trick is to buy and when it's low and sell when it's hot. What goes up will eventually come right back down, because ultimately it's human whim.
Hence, investors always need the Next Big Thing. They moved on to commodities. Prices skyrocketed. Now they're coming down again, big surprise. Investors are on the prowl for a New Thing.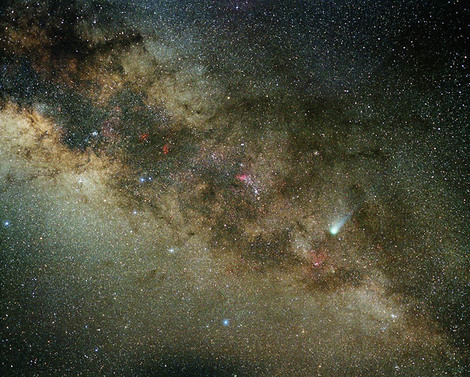 ...And what would you pay for pie-in-the-sky!?
I suggest photographs. They have just as much intrinsic worth, relative to market prices, as most of this other stuff. In many cases are a lot more portable, and they're certainly more attractive. They even do have some modest utility value, for covering up the stain on your wall.
It makes just as much sense as investing in tech stocks, mortgages, or rice. And like those you can generate more, lots more! Let's not forget the potential of futures ("I will gladly pay you today for a hamburger next Tuesday.") This could be a really big bubble, just the shot in the arm the economy needs! Think of what a gilt-edge Tanaka, or a blue-chip Pierce, or an AA-rated Ctein could be worth! And this rising tide floats all boats, because as the easy pickings get grabbed up by the early investors the later ones look for the less likely commodities. Even Johnstons would grow vastly in price. [Hey! —Ed.]
Like all bubbles, eventually it would burst, and the early investors (and, I emphasize, divesters) would make out like bandits and the later ones would get screwed. Meanwhile the suppliers, like us and our agents and galleries, would get to be part of that banditry, salting away our not-so-hard-earned rewards in non-photographic assets. (Big mistake, plowing your returns back into the same thing the bubble's built on. Not a good long-term strategy!)
I think this has huge possibilities. Any investment firms or brokerages out there, drop me an e-mail as soon as you read this. Get in on the ground floor. You can guarantee I won't be disappointed!
_______________________
Featured Comment by Christopher Lane: "Ctein, My day job is in the financial industry (lucky me) and you are absolutely dead on with your analysis which is the most cogent I have seen anywhere. The money is always looking for a place to flow and right now those routes are getting fewer and fewer. I totally agree with you; however, I would broaden your proposal a bit. I suspect that the entire art market is going to get a shot in the arm from this meltdown. That includes photographs and photobooks. As you point out, the intrinsic value of art is to cover up bad patches in your wall and look at while you eat your grill cheese sandwich. ;~)"
Featured Comment by Ken Tanaka: "Ctein: '...gilt-edge Tanaka.' I like your thinking.
"I realize that you present this with tongue firmly in cheek. But, in fact, photography is a (slowly) rising star in the art market. Within the past 15–20 years a completely new crop of centimillionaires and billionaires have driven the prices of other art works into space. Witness just this week the 2-day Sotheby's London auction of works by 'artist' Damien Hirst that produced £111.4 million. (Hey, where else can you find a dead adult shark preserved in an acrylic tank of formaldehyde? It's either art or an appetizer.)
"So while newly-minted Russian and Chinese billionaires have their private bankers waving paddles at this stuff other more mortal art investors are looking for better, more accessible values. Photography has become one of those 'bargain' opportunities. Sotheby's auction of Andreas Gursky's '99 Cent II' for $3.34 million in 2007 set the new high-water mark for photographic art work sales. But it looked like an eBay deal to many art investors looking for bargains in new art spheres.
"(A neighbor and good friend, now an octogenarian, has been collecting photographs for 40+ years. A tour though is collection is like a walk through the George Eastman house. Although he calls it a 'modest' collection, another mutual friend, a museum curator, estimates it's worth between three and six million dollars.)
"So dust-off those old dye-transfer Apollo launch prints and head to Sotheby's, Christy's, or Philips de Pury, Ctein. BTW, do you happen to know a lab that can produce gilt-edged prints? I can't find one locally."
Mike adds: For a recent dissenting viewpoint on that, Ken, check out this article from the Financial Times about contemporary art. To quote, "...my suspicion is that it [contemporary art] will fall further and harder than perhaps any other asset class, save perhaps subprime mortgages." (Thanks to David Emerick for the tip.)