By Ctein

Grazing the technical papers on the DxO website, I've been struck by how radically standards of acceptability have changed in the past decade. The level of image quality serious amateurs and professionals feel a camera should deliver is incredibly higher now than it was at the turn of the century. Exposure range is one good example. People consider 10 stops inadequate (although that's 1–2 stops better than the very best transparency film ever gave you).
Readers who have never made darkroom prints should understand that attractively conveying more than seven stops of exposure range in a print was a serious endeavor, requiring substantial effort. Few bothered. Getting 10 stops was barely possible, especially if you wanted the photographs to actually look good (as opposed to merely being technical tours de force). The kind of tone control that digital printing from film offers makes it a lot easier to make good aesthetic use of a longer exposure range, but 10 stops is still around the upper limit without things starting to look very, very odd.
Yet, many consider 12-stop digital ranges (better than any film processed normally) barely adequate. Sure, the digital characteristic curve has that ugly brick wall it runs into in the highlights, but that's a matter of nailing down one's metering technique (something many photographers haven't internalized, it's true). People who do understand proper digital metering, though, are still demanding longer exposure range.
Similarly, the DxO baseline standard of quality for an acceptable low light image is, so far as I can tell (I haven't tested enough cameras have a really solid feel for this) not only well beyond what could be achieved with 35mm format film, I think it's better than anything that could be achieved with medium format film (with the possible exception of exposure range). It's an insanely high standard of quality. Yet, from what I read in comments, here, I don't think it's out of line with what sane people genuinely expect.
For what very little it's worth, my current camera, a Fuji S100fs, whose low light performance makes me happy because it's definitely better than 35mm film, would probably rate about ISO 300 on the DxO low-light scale of acceptability, EWAG*. Then I look at something like the Sony A900, which a lot of people downrate for its relatively poor low light performance, and it's two stops better than that! I know that would make me delirious, and I'm pretty picky about these things...but then my expectations have been colored by years and years of (serious) available-light film work.
Both these photographs were made at ISO 800. The top photograph was made with a Fuji S00sf digital camera; the bottom with a 35mm camera on Fuji NPZ800 film.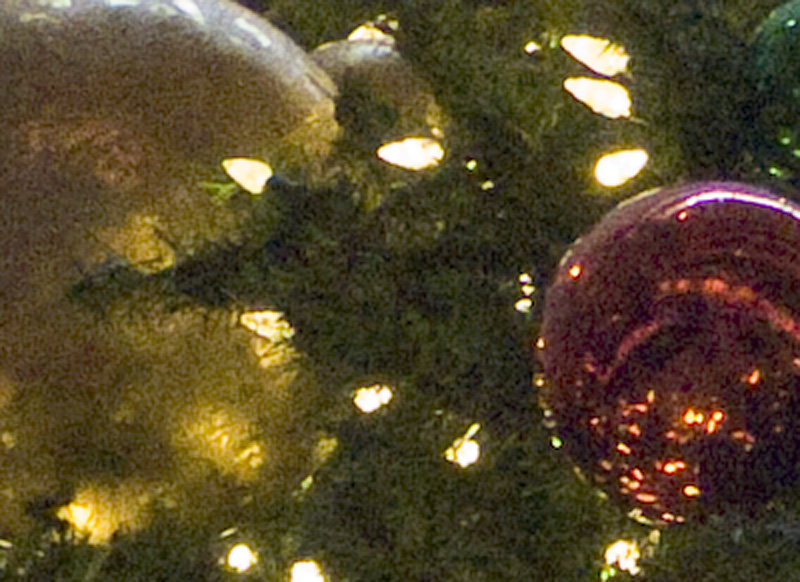 Extreme blowups (covering only a bit more than 1% of the frame area) of both photographs shows how much better the noise/"grain" is in the Fuji digital photo than in the Fuji film photo.

Understand that this is not meant to disparage, in any way, other people's expectations. Expectations have always risen as photography's improved, and film photographers of the late 20th century (including me) would have thought it ludicrous if anyone suggested that they should be satisfied with the standards of the first half of the century. I am not belittling changes in expectations. I am only astonished at how huge they've been in the span of less than 10 years. I might even argue that this indicates a truly qualitative change in the craft. Yes, it's all photography, but in some important ways I'm pondering the notion that digital photography may have as little in common with silver-based photography as wet glass plate photography does with dry film.

*extremely wild-ass guess