Reviewed by Ctein
Photoshop Lightroom 2 Adventure

(U.K. link
)
When I started out as a reviewer, I tried to be scrupulously "objective" and never let personalities enter into my judgment. I will chalk it up to the obsessive perspective of youth: One gets a notion and that's just the way it is. Or maybe it was my scientific training: One strives to avoid letting personal feelings about researchers enter into evaluations of research (often difficult to do, but a laudable goal).
The thing is, that wasn't how I lived my life. I patronized stores that treated me well and were run by decent people. If a manufacturer went out of their way to be nice to me (as an individual, not a reviewer) when I had a problem, I was inclined to buy more of their products. So where did I get the notion that the nice people shouldn't be rewarded in my writing?!
I don't think I got a clue until I was in my 40s. Whatever. Nowadays, what I think of a supplier definitely affects how I consider their merchandise and I have no problem letting that affect my reviews. I'm being paid for my professional judgment, and my judgment is that this matters. I don't let pettiness (everybody should get cut slack for having a few bad days) nor maliciousness (they aren't bad just because they didn't buy my manuscript) enter into the equation.
Mikkel's been a friend of mine for about two decades, and O'Reilly is comprised of some of the nicest and most generous people I've ever met in the publishing business (and, no, they haven't bought a book from me, dammit). So, when they sent me Photoshop CS3 RAW and Photoshop Lightroom 2 Adventure, I hoped for the best.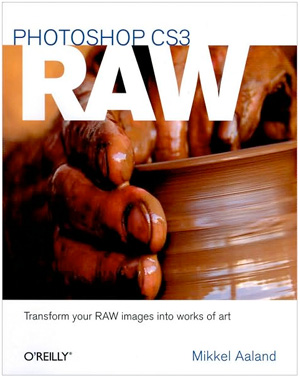 I was not disappointed. I am a very heavy user of Adobe Camera RAW and in no way a user of Lightroom (nor Aperture). Naturally, I picked up Photoshop CS3 RAW
first and started skimming through it. I'm only 40% of the way through it and already I've learned several very useful things. Some are basics I just hadn't noticed: I didn't know I could zoom the Loupe in Bridge, and I didn't realize that the Option key previewed clipping in ACR the way it does in Photoshop. Both of these apply to almost every photograph I edit.
Some of what I learned is definitely not basic: I'll suffer less highlight and shadow clipping in ProPhoto RGB color space than AdobeRGB, my default space? Okay, I really need to look into that. And, although I'd been using Synchronize in ACR when working with panorama and HDR stacks, I didn't realize just how much it could synchronize for me (flawed pixel removal?!) or how useful it could be for bulk-correcting photographs.
Understand that I'm not even into the meat of the book. I am so glad I'm a reviewer and O'Reilly gave me a copy of this, because I probably wouldn't have thought to buy it on my own and I would have been much poorer for that. Highly recommended.
Then we come to Photoshop Lightroom 2 Adventure
. The conceit is a charming one. Mikkel and O'Reilly put together a small group of professional photographers and Adobe techies and send them off, expenses paid, on a photo expedition. For this edition, the destination was Tasmania. What a sweet gig!
A sweet book resulted. Not only do you get Mikkel's encyclopedic knowledge of how to use Lightroom, but you get the particular and specific experiences of a dozen seriously good photo-educators (e.g., Katrin Eismann and Charlie Cramer) tossed into the mix.
My situation reviewing this book is entirely opposite from Photoshop CS3 RAW. I'm not a Lightroom user, because I've never been able to figure out what good it might do me. Bulk administering of photographs is not my thing, and between Bridge, ACR, and Photoshop I felt I had my workflow pretty well in hand. I figured reading Mikkel's book might give me a clue.
Indeed, I picked up a couple. Lightroom's library and printing capabilities are never going to mean much to me; I don't make that many photographs, and I've never produced a final print that didn't require local corrections far beyond the capabilities of the adjustment brush. But, the way in which Lightroom integrates the browsing capabilities of Bridge with the photographic information and adjustment abilities of ACR intrigues me. I do spend a lot of time hopping back and forth between Bridge and ACR. Food for thought.
Although the Lightroom landscape is unfamiliar to me, I can tell you that Mikkel's explanations of just how the ACR-type development tools work are clear, complete, and very useful. They confirmed some details I'd had notions about but couldn't find explicitly clarified elsewhere. I'm betting that the rest of the book is just that good.
Another book I wouldn't have bought on my own initiative but that I'm really glad to have. And another book that's highly recommended. Buy both!