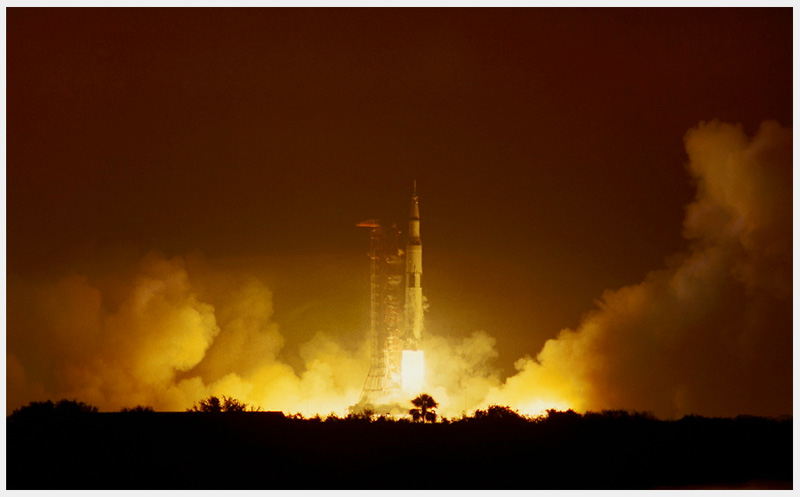 Ctein, Apollo 17 Liftoff, Cape Canaveral, 1972

By Ctein
Part of photography is in the hypothetical. Some of it's intellectual exercise; some of it is "luck favoring the prepared." I wouldn't have been able to make either of these photographs if I hadn't spent a lot of time in advance figuring out just what was going to be required to make them.
Recently, a friend asked me about the prospects for photographing Betelgeuse when it goes supernova. Not as far-fetched as it might seem. Betelgeuse is a very late stage red giant (it's the brightest star in Orion, the left shoulder), with large-scale instabilities. It's in the last moments of life.
A red giant lives a million times longer than a human being, so the fact that Betelgeuse has anywhere from "seconds" to "days" to live doesn't have quite the immediacy it does when we're talking about a human being. Still, there's a finite chance the wavefront is already on its way and will arrive in our lifetimes.
I started thinking. How long would it be extremely bright and visible? Answer is, for months, although the peak brightness should only last for a day or so. Still, even days are enough time, unless you're unlucky enough to be clouded out. Or Betelgeuse is lost in the sun's glare. Not much we can do about that.
So, how bright? Here's where it gets interesting. Predictions for this kind of supernova are uncertain. A somewhat arbitrary number thrown around is peak luminance equal to 100 billion suns. There can be variations by an order of magnitude. Supernova 1987a is another reference point, although it was on the dim side.
Betelgeuse is far away, so it wouldn't look very bright to us, would it? Well, it's not all that far away. Merely 600 light years. Our sun is 500 light seconds. So, dividing 500 seconds into 600 years and squaring, it's just about a factor of one quadrillion. Which would make supernova Betelgeuse only 1/10,000th as bright as the sun. Whew, no chance of excessive sunburn! (You'll get zapped by possibly 1000 neutrinos, no big deal. Happily, the main radiation jets will be pointed away from the earth. But no predictions on what happens when the charged particles arrive; I'd have to do more research.)
But, that's bright! The full moon is 1/300,000th as bright as the sun. So this arbitrary calculation says supernova Betelgeuse would be 30 times as bright as the full moon. Huge uncertainties in that number, but it seems safe to say it's somewhere between one and several hundred times as bright as a full moon.
What makes this a photographic challenge is all that light is concentrated into a very small point. For the human eye, it's an area about 1000th that of the moon. So the "surface luminance" of supernova Betelgeuse could be anywhere from a few percent to as bright as the sun. Shining on the landscape that is 10–15 stops darker than a normal sunlit one.
Photographing scenes under a full moon isn't much different than photographing them under the full sun, not counting a 16 or 17 stop difference. Similar size source, similar color characteristics, etc. Here the light source is much more concentrated and bluer, shadows will be sharper and harder, there will be much, much more bright light scattering near to the source, relative to the scene. It will be a real challenge for HDR.
Honestly, I'm not sure HDR could tackle it. A point source that bright in a scene produces a substantial amount of scattered light in any optical system. When you're dealing with luminous ranges that push 20+ stops, it becomes very problematical what any range of exposures captures in the shadows. More food for thought. I hope this doesn't happen tomorrow; I need to work on the problem.
Of course, if it happens in the daytime, it's much easier to photograph. It'll just be a brilliantly bright spark of light in the sky. Boring.
Things might start to get interesting 5–10 years after the explosion. There might be some photographable light echoes and maybe a nice dense nebula, both getting into the size range of the full moon. But I'm not sure about that; need to do more detailed luminosity calculations. Might just be of astronomical interest.
Or maybe not!