(* ... it gives us such nice, bright colors)

by Ctein
So, while Mike returns from vacation, I'm off on one, in Montreal. Just wrapped up the World Science Fiction Convention, a.k.a Worldcon. Mondo fun. Great parties. And, unexpectedly, photo stuff to write about.
The interior of the Palais des Congres de Montreal (I am not typing that more than once) is inherently neutral—whites, greys, blacks, charcoal granite, silver aluminum and steel. The south-facing wall, though, is all colored glass panels. I'm coming down the escalator early Thursday afternoon, and the sun comes out. And I freak out. OMG, he says eloquently. Run back to my hotel room. Get my Fuji S100, spend the next hour and a half making photographs. I am in heaven. Found my traveling companion, Bayla, and told her, "okay, I'm done. I've had a good con. We can go home now."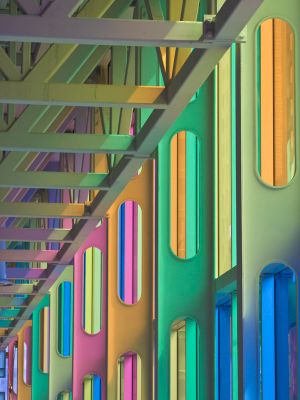 Ended up spending about five hours of photography over three days there, working with the changing light. Made over 100 photos. Amazing photos, very rough versions of three being shown here. No finishing touches on these; all I've got to work on is my crappy laptop screen. Think of these as enlarged proof sheets. Just samples, probably not even the best of the bunch. Can't wait to see what they look like after I get to adjust and print them well.
Understand that all the color you're seeing is from the sun filtering through the glass. All natural, all light, all amazing. And, yes, it is just what I saw.
A friend wandered up while I was working and opined that the weird and wonderful light must be screwing up the white balance. I looked at him incredulously and exclaimed, "White balance?! Where we're going, we don't need white balance!"
Yes, I was working raw, what else? But, in these roughs I haven't fiddled with the white balance from the camera settings; it's not worth even trying on this laptop screen. So, JPEGs would've balanced well enough, too, just not had anywhere near the exposure range nor color gamut. This subject really utilized that 11-stop range.
Wow. Wow. And furthermore, wow.
But enough about me. Made a new friend, Kyle Cassidy (right). DD-B showed me Kyle's project "Where I Write" about two months back when I was visiting in Minneapolis. I was incredulous. This guy's work is fabulous. Not only are they inherently interesting and deep photographs, regardless of the subject matter, but I know most of the subjects and, trust me, these are effin' good portraits of them! How could I not know of someone this talented operating in my own 'universe'?!
Did a panel with him at the con. Turned out that while he's a well-experienced professional photographer, he's new to my world. This project is months old. Okay, I feel less ignorant. Had dinner with him and Trillian and their friend (and now mine) Colin. Lovely time was had by all. Check out his other projects, too, on his regular website. And his blog. I dunno if it's worth reading. Honestly, I just go to look at the pictures (yes, that is a compliment). But I went to his "slide show," and he gives great talk.
By the way, don't look for me in his con photos. Yet, anyways. He spent Saturday making portraits of as many fans as he could (some of the photos are in his blog). He spent a whole minute on me. (I am flattered. I mean that.) He made four photos that are better than any I've ever seen of me before. The man is not only good, he's fast.
P.S. Folks, I'm on the road. The illustrations, as posted, look desaturated on the browser on my laptop. I can't tell if this is a real display problem or an artifact of my situation, so I've uploaded the source JPEGs to https://ctein.com/TOP/ (they're files DSCF5434.jpg, DSCF5427.jpg, and DSCF5439.jpg)
Download them and open them in MacOSX's "Preview" or in Photoshop and they'll look just fine. Don't double-click them to open them in your browser; if there's a real display problem, they'll look just like versions in the column.
Featured Comment by Dan Gorman: "Thanks for your post. By coincidence, I was in Montreal this week on a family vacation, and saw the same building. I, too, was struck by the building's design:
"I live in Chicago, which gets well-deserved props in the media for the quality and variety of its architecture, but I have to say, I was very impressed with the architecture I saw in Montreal. The Palais de Congres is an excellent example, but far from the only one. I saw numerous buildings that struck me as fresh, creative, well-integrated with their surroundings, and infused with a joie de vivre that is very characteristic of the city as a whole. I think Montreal may be overdue for some recognition in this area."