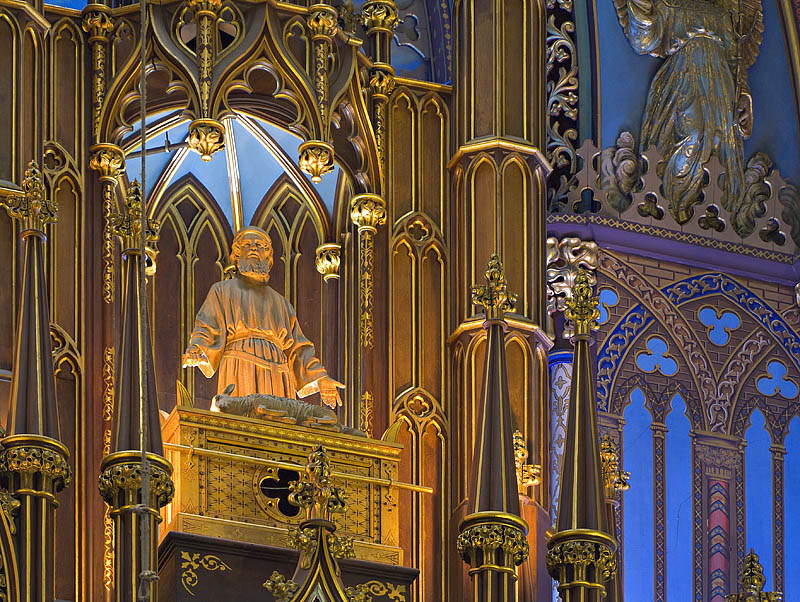 By Ctein
The Basilique Notre-Dame de Montréal (I'm only typing that once, too!) is a truly extraordinary environment for making photographs. I think the building is rather unprepossessing from the outside—a nice but not extraordinary exterior. There is nothing to be seen that would tell you that it's worth the $5 admission fee to go inside. (Note: that's for the tourist: it's free to worshipers.)
Oh, but it is. If you like photographing architecture, that will be among the best five dollars you've ever spent!
As cathedrals go, this is a very modern one, having been constructed in the 1800s, with most of the decoration occurring near the end of the 19th century. But, save for the Chapel in back, which is late 20th century and definitely not to be missed, the style is classic, down to the polychrome woodwork that makes the interior so amazing (top picture).
Polychrome decoration for cathedrals goes back to the Middle Ages. Very little of that has survived to modern times, so one tends to think of cathedrals as being, well, "Gothic" in appearance...much the same way we have this unconscious feeling that medieval and early Renaissance painters did everything in sepia tone or that antique photos always started off brown. Seeing an old-style cathedral in all its polychrome glory is a startling experience.
It's also one hell of a photographic challenge. It's really easy to make a good photograph there; it is so photogenic it would be hard to make a lousy one. Making an exceptional one is another matter. It's not only the difficulty of composing something that goes beyond mere record photography of what's obviously in front of your eyes. It's a technical issue as well, dealing with extreme lighting ranges combined with multiple natural and artificial light sources. A challenge for the equipment and a challenge for the photographer. I've photographed there twice, in 2001 on medium format color film and just two weeks ago in small format digital. I made photographs both times that I'm entirely happy with, but I've yet to make a photograph of the stations with lit votive candles that looks "right" to my eye. There's something artistically off about my results. Perhaps a challenge for a third visit.
The cathedral makes it very easy on photographers. There's no limit on how long you can stay, and they have no restrictions on using flash if that's your preference (definitely not mine). They will even allow you to use a tripod if you sign an agreement that the photographs will only be for your personal use. I couldn't in good conscience make that promise, so I chose to work handheld or with the camera braced on various flat surfaces. I'm very experienced at that, and it didn't much inhibit my work. Still, if you're the tripod-wielding sort, this is one of the few buildings I've visited that welcomes them. That's extraordinarily accommodating and nice of them, considering the traffic this place sees.
And speaking of nice, something I consider a signature hallmark of Canadian culture (and, yes, that includes the Quebecois, no matter how much the Anglophiles like to make jokes about them)...
I was sitting in a pew with my camera braced on the rail in yet another (unsuccessful) attempt to make a satisfactory photograph of a votive candle station. There was a family lighting candles, and I was patiently waiting until they were done. The mother noticed me sitting there and moved to hustle her young son, who was struggling to light a candle, out of the way so I could make my photograph! Fortunately, they spoke English (I cannot speak French) so I was able to make it clear that I understood that first and foremost this was a church, and what they were doing was more important and appropriate to the venue than what I was doing, and I could happily wait until they were done.
Damn, but I like nice (yes, I have been strongly tempted to emigrate North, but it's not going to happen in the foreseeable future).